Article by: Free Walking Tour Barcelona
Every year we transition from autumn to winter. We witness the trees shedding their leaves. And we sadly see the days growing shorter. Summer is over but Christmas in Barcelona is just around the corner!
Although we have some new imported traditions coming from abroad, such as the American's Black Friday Sales event, we still hold dear our local and sometimes oddly strange Barcelonese traditions. To truly enjoy Barcelona during the festive season you have to see these sights.
Let's get started off with the most shocking of them all…
Caga Tió
Caga Tió is a Christmas log that comes to the Catalans houses traditionally around the 8 of December. The magic starts when the doorbell rings, and the kids go running to the door to see who's there. Much to their delight and surprise, it's not the grumpy neighbors from downstairs complaining about noise. No. It's Caga Tió! The Christmas log that shits presents!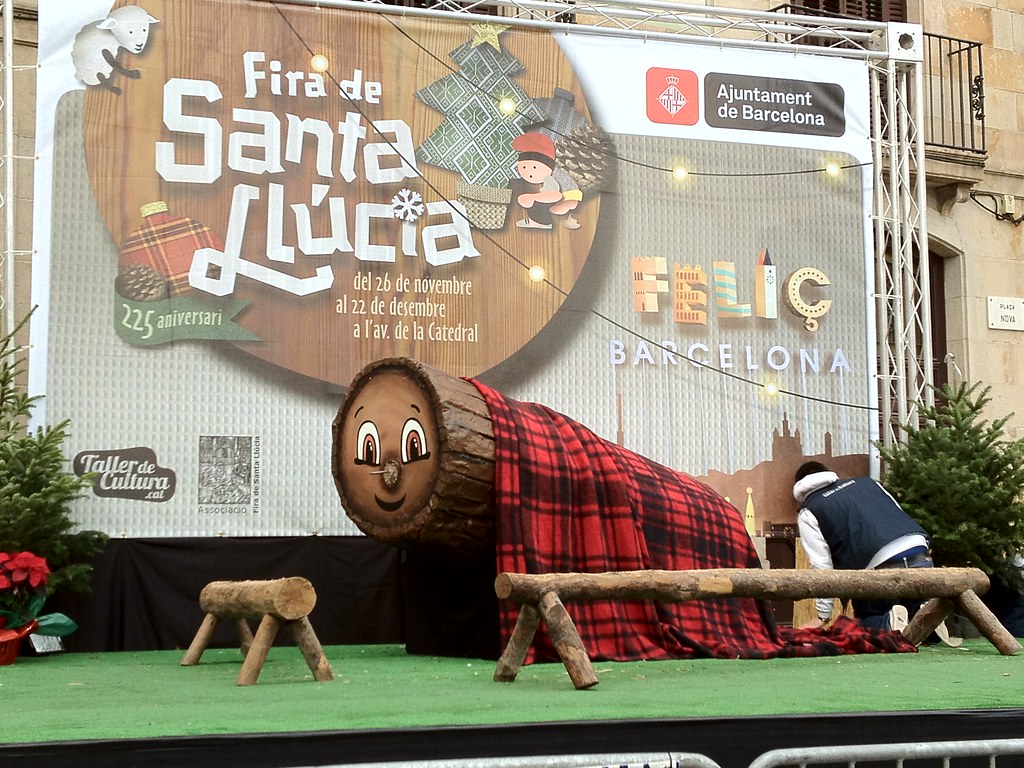 Once Caga Tió arrives, the children take him into the living room, and each night before they go to bed, they leave him some mandarins, so he gets nice and full. They also place a blanket on him so he's nice and warm in the winter months of Barcelona. Then on Christmas eve the kids take a stick and begin whacking Caga Tió in the hopes of making him shit presents, and all while singing a song. Finally, the kids check underneath the blanket, and to their amazement, Caga Tió has shit out all sorts of Christmas sweets.
Caganer
Staying the spirit of caca, we move on to our next strange Barcelona Christmas Tradition. El Caganer. The Shitter. This guy is traditionally a Catalan peasant with a red beret and sash and black pants. Look carefully though, he has his pants pulled down, and he's literally pooping.
To make things a bit odder, this figurine is traditionally placed in the Nativity scene with the Virgin Mary, Joseph, and little baby Jesus. Following the belief that if you have a well fertilized field you will have a prosperous season, the Caganer is used as a good luck charm going into the new year.
Pesebre
Taking a step away from these strange scatological Catalan traditions, let's switch gears and talk about the lovely pesebre, or the nativity scene. Every year the Plaza de Sant Jaume will be decorated with a modern nativity scene. The Nativity Scene will take up about one fourth of the whole square and will be admired by thousands of people who walk through the center of Barcelona's Gothic Quarter every day for about three weeks in December. If the Modern nativity scene isn't for you, you can see the more traditional one in Museu Frederic Mares, also in the Gothic Quarter. If you're feeling a bit more motivated, you can also swing by the Christmas Market in Plaza Nova and buy your own special pieces for your very own nativity scene at home, a tradition celebrated in many houses around the world.
You can easily find all these interesting Barcelona traditions in one place on the Barcelona Free Tour when we stop in the Plaza Nova Christmas Market. Make sure to swing by to buy your Caga Tió, your Caganer, and your Pesebre, and celebrate your own Catalan Christmas in Barcelona.
Bon Nadal!