Article by: Jill Collins, founder and guide at Denver Walking Tours
As a long-time Denver resident, even I had preconceived notions of what Denver was all about before visiting here (and then moving here after falling in love with the city), many of which were disproved. Read on to discover the top 7 things you didn't know about Denver that will make you want to visit now, along with recommendations straight from a local.

1. Denver is Not Located in the Rocky Mountains
Most visitors picture a city located at the base of or in the Rocky Mountains. Contrary to this popular myth, Denver is actually is one of the flattest cities in America, which makes it very walkable, and we're about a 20 minute drive to the foothills. However, our city is located pretty high up: a mile high to be exact!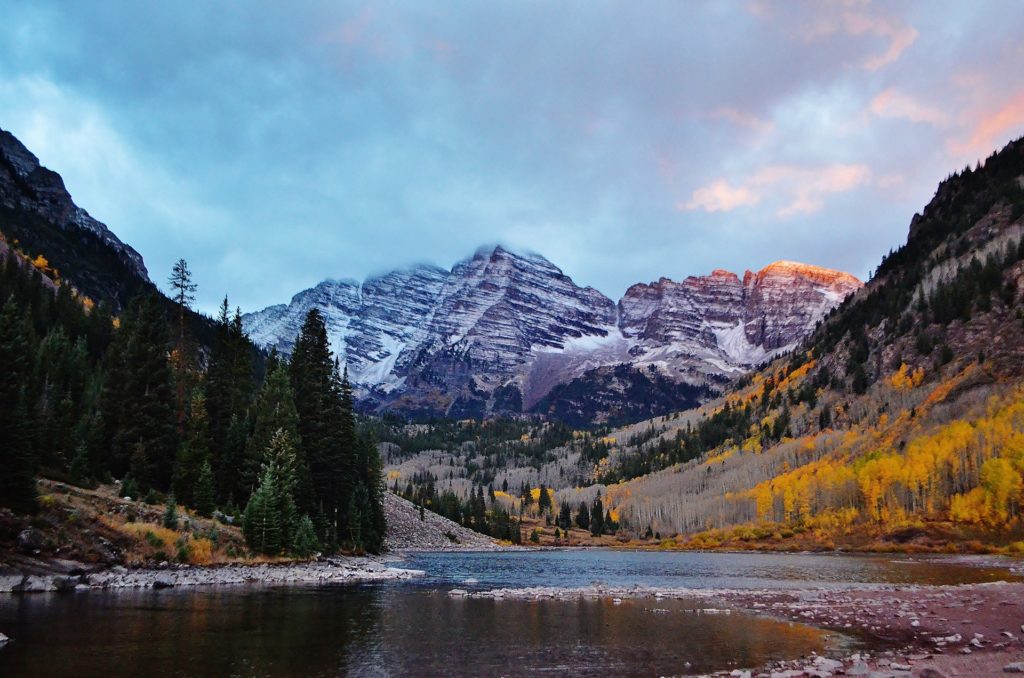 That is why Denver is also known as The Mile High City, giving travelers amazing views of the nearby and often snow-peaked mountains. On a clear day, from Denver, visitors can see over 200 named mountain peaks!

2. Not so Snowy Denver
This is perhaps our city's best-kept secret: Denver is surprisingly sunny and mild. Denver sees the sun more than 300 days a year, so your chances are good for beautiful weather regardless of the time of year you visit. Our Mile High City clocks in more hours of sun than San Diego, CA or Miami Beach, FL each year.
Winters are super mild and we have really low humidity: we average 45 degrees Fahrenheit on average, and often hit temps in the 50's and 60's, making it downright balmy, compared to other northern, wintery cities in the US. Denver locals have a saying, "Don't like the weather? Wait a few hours."

3. Denver Loves our Dinosaurs
Some of the most notorious dinosaurs, including stegosauruses and triceratops were first discovered on Dinosaur Ridge, which is about 15 minutes from Denver and located near the famous Red Rocks park and music venue.
Dinosaur Ridge has tours available and has become one of the world's most famous dinosaur fossil areas but if you're visiting Denver you can also see and more dinos at the Denver Museum of Nature and Science and Dinger, our Colorado Rockies baseball mascot, is a purple triceratops, after crews building the stadium unearthed a triceratops fossil there.

4. Denver is Home to the Cheeseburger
The cheeseburger was first trademarked by Luis Ballast, a Denver resident, in 1935. He opened the first drive-in, the Humpty Dumpty Barrel Drive-In. Denver continues serving lots of tasty beef and bison burgers across the city. The most well-known and famously tasty local cheeseburger is the Cherry Cricket restaurant.
Follow-up that cheeseburger with one of our 200+ local craft beers and take in a brewery tour. Check out Denver's ever-growing list of breweries. Great Divide Brewing Co near downtown is a popular Denver brewery tour option.

5. Denver is Still Kind of Like the Wild West
Denver's roots are in the Wild West, as we were settled by gold prospectors. Denver is home to one of the oldest and the world's largest rodeos, the National Western Stock Show & Rodeo, held each year in January.

As a kick off to the Western Stock Show, there's a parade of longhorn cattle that makes its way down the streets of downtown Denver. It's quite a site, especially when the prize cattle is brought into the historic and somewhat fancy Brown Palace for visitors and locals to get an up-close-and-personal view.
When we say fancy, we mean it: You can also get proper British afternoon tea service here surrounded by live piano music. If you come to town and want to embrace the Wild West, don't miss visiting the Buckhorn Exchange, which holds liquor license Number One in the State of Colorado and you can have a drink and/or order Rocky Mountain Oysters (that's bull's testicles, often battered, fried, and served with dipping sauce).

6. Denverites are Outdoor Lovers
Denver is consistently ranked as one of the fittest and healthiest cities in the United States. We have more than 200 parks, 100 miles of bike lanes, and almost 400 miles of bike routes. And that's just in the city! With the mountains and foothills a short drive away, there's thousands more miles of trails and acres of parks to explore, which is why so many visitors flock to Denver each year.

7. Denver is home to 7 Professional Sports Team
We love our sports, what can we say? Visitors who are also sports fans can get tickets to games of the Denver Broncos Football, Colorado Rockies Baseball, Denver Nuggets Basketball, and Colorado Avalanche Hockey professional teams.
We also have three lesser-known teams: Colorado Rapids Soccer, Colorado Mammoth Lacrosse, and the Denver Barbarians Rugby.

To get the inside scoop on all of the unique stories while taking in Denver's top sights and landmarks, be sure to join a free walking tour of Denver. Tours start at 10 am (daily May-Oct, Sat/Sun Nov-April). Or, have fun exploring Denver's darker side with a Ghosts of Capitol Hill Tour. See all tour opportunities and details here.