Article by: Penny Jackson, guide at Copenhagen Free Walking Tours
Photos by: Laura Ioana V, guide and resident foodie @lauraioanaeats
Nørrebro is one of the 10 districts of Copenhagen. Since Time Out Magazine declared Nørrebro as the coolest neighborhood in the world, the guides of Copenhagen Free Walking Tours want to share some history, must visit sites, and cafe & restaurant recommendations.
From the city center, getting to Nørrebro from Nørreport is quite easy. Nørreport Station is one of the busiest railway stations in Denmark where over 165,000 commuters pass through daily on foot, metro, regional & international trains to Sweden, bikes and buses. Nørreport station or North Gate, where the historical gate into the city from the northern districts was located. Walking or taking the bus from Nørreport to The Lakes, once an old stream but later a few levees built in order to fortify the city, you can stop at the Botanical Garden and the food halls, Torvehallerne before making your way towards Nørrebro.
Crossing the Dronning Louise Bro or Queen Louise Bridge, named after the wife of Denmark's King Christian the 9th, to the other side of The Lakes is the colorful and vibrant Nørrebro. Nørrebro was considered the countryside before 1852 primarily occupied by laborers working in the city center. Nørrebrogade, the main thoroughfare, boasts many shops, boutiques, cafes and restaurants from the myriad cultures living in the neighborhood. Nørrebro is considered Copenhagen's most multicultural neighborhood. In 2017, approximately 1 out 6 passports of inhabitants in Nørrebro held foreign passports.
Superkilen, a public area in Nørrebro designed by Bjarke Ingels Group which opened in 2012 is a welcoming space for the diverse residents in Nørrebro. The park draws inspiration from design aspects and various interesting "things" from around the world in an open air exhibit that aims to bring communities together. Distinct items like benches from Mexico City, neon signs from Russia and Taiwan, trash bins from England, swings from Iraq, fountains from Morocco and a giant donuts sign from the United States.
Nørrebro has a lot of green space like Nørrebroparken and borders Fælledparken. Assistens Cemetery, originally a plague cemetery, where fairy-tale author Hans Christian Andersen, Nobel Prize winning physicist Niels Bohr and Danish philosopher Søren Kirkegaard are buried, often doubles as one of the district's popular green spaces for picnics, sunbathing, jogging and strolls. The oldest Jewish cemetery in Denmark, Mosaisk Begravelsesplads is also in Nørrebro where Danish Jews have been buried since 1693. Another beautiful cemetery used as green space is Bispebjerg Cemetery close to the must visit Grundtvig's Church, popular for cherry blossoms in the spring.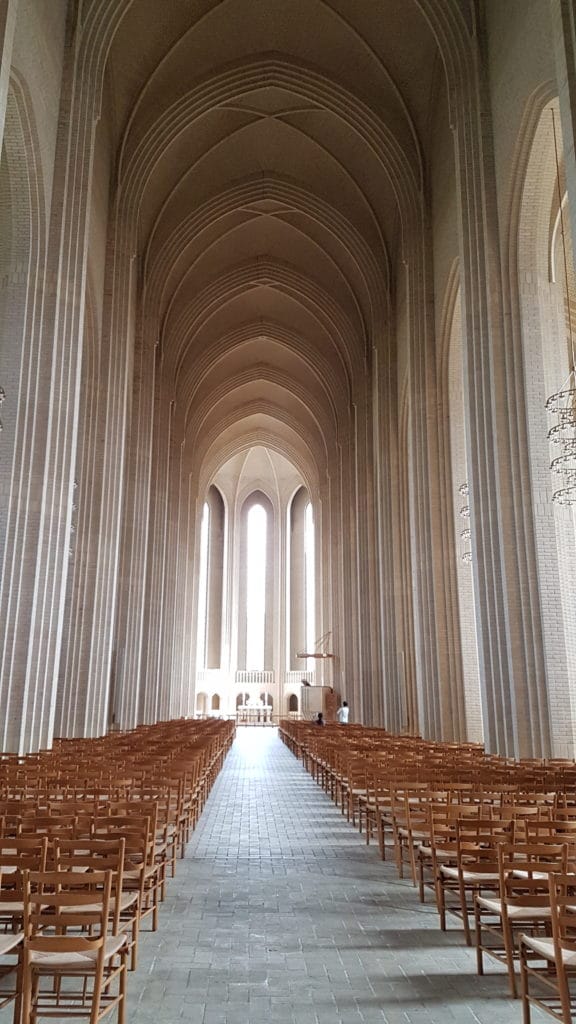 Nørrebro is also one of the districts that hosts Copenhagen Distortion which is considered one of the largest street parties in Europe! Living in Nørrebro is amazing for families, not only with the green spaces but the district also hosts an annual car free Sunday where families can take over the main street Nørrebrogade with events, live music and flea markets. Speaking of flea markets or "loppemarked," weekend flea markets in Nørrebro are some of the best in the city, during the warmer months, a few flea markets pop up on given weekends that you can visit including; Nørrebrogade flea market along Assistens Cemetery, Vera's Market between Frederiksberg and Nørrebro, Ravnsborggade Flea Market, Blågårdsgade Flea Market and Baldersgade Flea Markets. Blågårdsgade and Jægersborggade are some of the best spots for shopping and strolling peppered with coffee shops, international cuisine, local confectioners, second hand shops, vegan restaurants and many more.
Nørrebro also has an amazing food and drink scene with restaurants on the Michelin guide, vegan options, brunch spots, breweries, late night kebabs and durum bars, multicultural food markets, and bakeries. Below is a list of recommendations that you can try when you visit Copenhagen's coolest neighborhood.
Cafes & bakeries:
Coffee Collective

https://coffeecollective.dk/

Andersen Maillard

https://www.andersenmaillard.dk/

Mirabelle

https://www.mirabelle-bakery.dk/

Mina's Kaffebar

https://www.mirabelle-bakery.dk/
Brunch Spots:
Tilda og Karl
Cafe SixteenTwelve

http://www.sixteentwelve.dk/

Laundromat Cafe

https://thelaundromatcafe.com/en/home
Restaurants:
Zula Restaurant

https://www.zulaafrica.info/

Baest

https://www.baest.dk/en/welcome/

Kiin Kiin
Pico
Ramen to Biiru
La Neta

https://mikkeller.com/locations/la-neta-norrebro

Oysters and Grill

https://cofoco.dk/en/oysters-and-grill/

Cicchetti

https://www.cicchetti.dk/

Grisen

https://grisengrillbar.dk/

TigerMom
Koan @ Relae
Snacks:
Durum Bar
Kebabistan
Poulette
O'snacks
Mexihagen

https://www.mexihagen.com/
Beer Bars:
Nørrebro Bryghus

https://noerrebrobryghus.dk/en/

Mikkeller

https://mikkeller.com/locations

Brus

https://tapperietbrus.dk/
Vegan:
Pow
Nicecream

https://www.nicecreamcph.com/

Eden Jaxx
Next time you are in Copenhagen, join one of our tours so we can share more about the coolest neighborhood in Copenhagen with you! You can book your tips-based walking tour on our website.
Planning to visit some of the top 10 of the happiest countries? Check out our friends.
---
Thank you for reading the article. For more travel tips from our local guides around the world, check the blog section of our website! Have you read our last article about Danish Carnival Traditions and Why Danes are one of the Happiest in the World?
If you like this article or have any questions, feel free to leave us a comment below!