5 Beers from Bruges You Absolutely Need To Try
And Where To Do So - Before Or After A Walking Tour
The moment you arrive in Belgium you're in for an (alcoholic) treat with over 3000 different Belgian beers available. They're being brewed all over the country and as you can imagine Bruges is no exception. Here's a list of beers from Bruges you have to try yourself!
1. Bourgogne des Flandres - Flemish Red-Brown 5%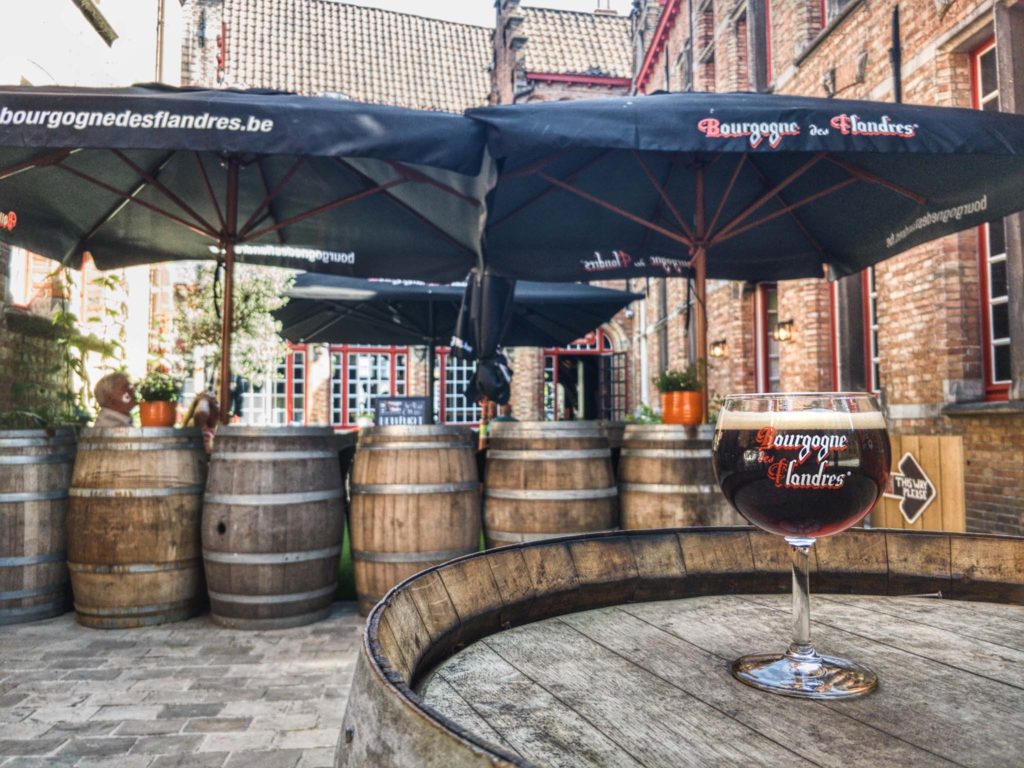 The Burgundy region in France is known all around the world for its great wine. Bourgogne des Flandres (or Burgundy of Flanders) is, however, a beer, yet with the same aspiration: to offer unprecedented quality!
Blended to perfection
The beer is partly brewed in the brewery with the same name as the beer. Yes! Partly, as only half of the finished beer comes from the brewhouse in the attic. It starts off as a dark beer which when it's finished is pumped into a large tank truck that takes it to Timmermans Lambic Brewery in Itterbeek. Over there the master brewers from Bruges and Itterbeek come together with the master blender to blend the dark beer with the sour lambic beer which has been aged in wooden barrels for over eight months.
The result is a beer style known as Flemish red-brown and this particular beer is even adored by wine drinkers because of its balance. It perfectly balances malty sweetness of the dark beer from Bruges with fruity sourness from the lambic beer from Itterbeek. At only 5% ABV, it's a great beer to start with at lunch after a brewery visit.
2. Brugse Zot - Blond Ale 6%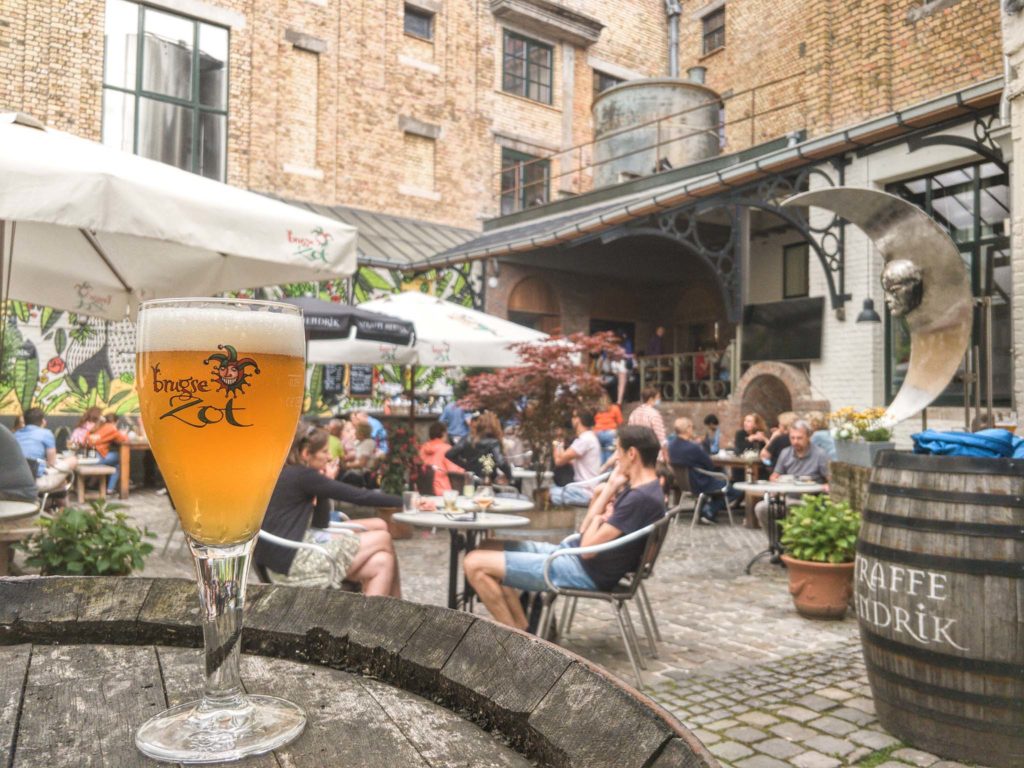 Walk around Bruges and you'll notice that in almost every street you can find this beer whether it's at a bar or a shop. That's because the Brugse Zot is a refreshing blond ale brewed at Bruges' most famous brewery.
Brewed in the heart of town, bottled just outside of it
Since 1856 Brewery De Halve Maan has been located at Walplein. Ever since the beer has been brewed here. It used to be bottled here as well but with an ever-expanding production there simply wasn't enough room any longer. In 2010 a new bottling plant was opened at an industrial site outside of the city and a few years later the two were connected by the world's very first beer pipeline!
The blond Brugse Zot is a refreshing, slightly sweet malty beer with fruity and spicy notes. It's best enjoyed at the brewery itself as it's the only place where you'll find it at the source, still unfiltered and unpasteurised.
3. Café Vlissinghe - Belgian Ale | Strong Pale 8%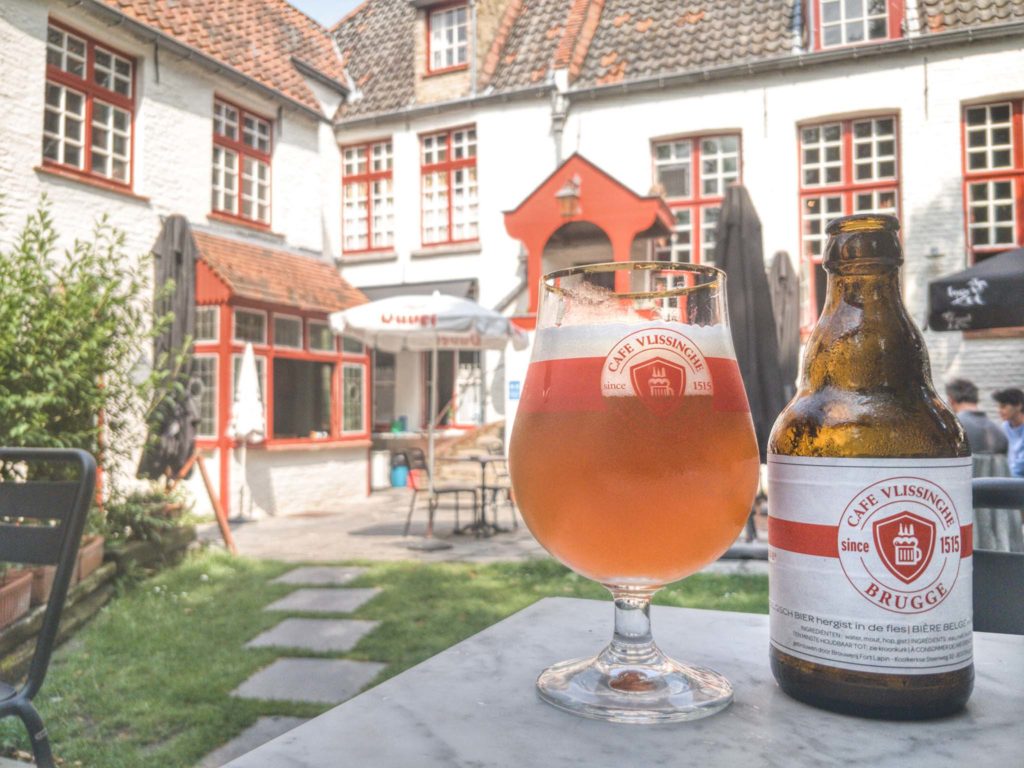 A beer named after the bar it was brewed for, to be a bit more specific: for its 500th anniversary! Café Vlissinghe opened its doors as an inn in 1515 and never closed since. It's the oldest bar in Belgium and the 10th oldest in the world!
Locals & outsiders mingling
On a cold day, you might not notice it until you need to cross it to get to the toilets: there's a lovely garden which makes an amazing quiet terrace in the summer. If you're lucky you can spot some locals playing a medieval variant of pétanque or you can even give it a try yourself.
During the cold months, you might need to share one of the long tables in the bar which didn't change much since the last big interior change in 1869!

The beer itself is amber coloured with a creamy head. Watch out for the yeast sediment when pouring if you don't like it. You'll notice some fruity notes like banana, orange peel and peach as well as some earthy minerals.
4. Straffe Hendrik Quadrupel - Quadrupel 11%
The alcohol content is going up, the danger of intoxication even more if you don't watch out. The alcohol is well disguised, just used as a carrier for the wonderful aroma and taste.
Same brewery, stronger brother
Apart from the Brugse Zot Blond and Brown, De Halve Maan also brews their stronger brothers: Straffe Hendrik Tripel and Quadrupel. Named after Henri Maes, the great-great-grandad of the current owner. Establishing a brewery like this could only be done by a strong (straffe in Flemish) guy.
Contrary to what the name would suggest the beer's not four times as strong in alcohol content but it does use four times as many roasted malts creating more flavour and more sugar to be fermented. The secret mix of spices added got it into the top 50 quadrupels worldwide.
It's a dark beer with a beige head. You'll smell some bay leaves, dried fruit and coriander. When savouring it you'll taste the caramel maltiness, some liquorice and dark fruit.
5. Tripel de Garre - Tripel 11.5%
If you were to think: "another local house beer named after the bar, that can't be anything special" you would be making a mistake. Do not pass on this amazing beer!
One of the best tripels in the world
This house beer is to be found in the top 50 tripels worldwide, currently at no. 23 on ratebeer.com. It's specially brewed by Brouwerij Van Steenberge and you can only find it on tap in this medieval 3-story building in the smallest alley in Bruges. You can also buy yourself a bottle or magnum bottle here to bring home but don't let that hold you back from trying it fresh on the spot as well (little secret if you're afraid of the alcohol content: you can order a half one as well in a smaller glass).
Below a thick layer of dense, creamy foam it's a beautiful orange golden beer with a strong fruity smell and taste. Enjoy some banana, tangerine and apple as well as some spiciness and the typical Belgian yeast coming through.
This list of beers has been put together by Pascal, founder of Ambassador of Bruges Tours & Activities. Join the Highlights: History & Heritage Free Walking Tour of Bruges if you want to find out more about these beers, bars & their history.